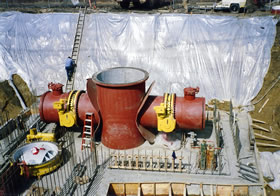 Vaughan Mechanical has performed extensive work in the utility construction market. Over the past twenty four years we have completed many different types of installations, some of which include bridges, water towers, sub stations, and treatment facilities.
Sanitary Sewer Mains
Water Services
Natural Gas Mains
Lift/Pump Stations
We are HDPE certified in electric and butt welding and having installed nearly eight miles of HDPE pipe from ¾'' to 36'' on a single project. We have developed a number of successful and efficient techniques to save the customer time and money.