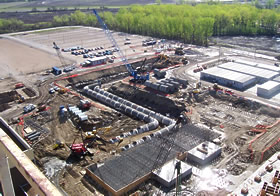 Our work in the Industrial Power markets has increased dramatically over the past decade with the addition of new coal fired and gas turbine generating plants to the Kansas City area. We have been able to develop a team of qualified personnel and subcontractors that have an outstanding sense of self pride, commitment and dedication to getting the job done with the professionalism that the customer demands.
Natural/Methane Gas Turbine Generators
Coal Conveyance Systems
Design/Install Wash Down Systems
Installation of Certified Boiler Piping
Process/Service Piping
The job locations and environments may change but our dedication to Safety will always be very important to our supervision and management. We strive to keep SAFETY the constant goal on every project big or small.